See on Scoop.it – OccupyTaiwan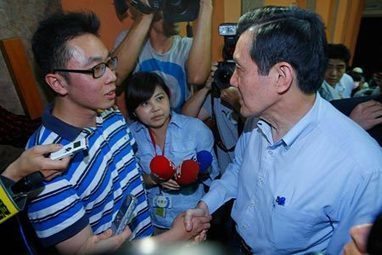 WantChinaTimes Ma Ying-jeou greets Sunflower Movement member at youth forum WantChinaTimes Taiwan's president, Ma Ying-jeou, greeted a young member of the medical team that served the Sunflower Student Movement at a youth forum on Sunday, saying he…
Barbara Capilos's insight:
On a different note from our last post, the president whose decision caused such unrest amongst the young people of Taiwan, bringing them to begin their Occupy Taiwan protest, is now calling bygones bygones. Ma Ying-jeou met and shook hands with a member of the Sunflower Movement during a forum organized with the intent of listening to the opinions of the young. Chang, the member in question, stated that he had come to the "enemy's camp" in hopes that Ma would be willing to hear the voice of those who were against him. Ma proved to be surprisingly open, stating that he is happy to meet with student protesters so long as there are no demands, for that is the only time communication can really be true. Chang is stated to have left the interaction with an improved opinion of Ma.
This reaching out between what were conflicting forces–the "enemy", as Chang had said–bodes well for the future of Taiwanese youth and the government. The Sunflower Movement established that the youth of Taiwan are now engaged in the governance process. And this peaceful communication between them and the government despite having had to concede their stand, shows that the engagement will continue, and progress will come from here.
See on www.wantchinatimes.com