See on Scoop.it – OccupyTaiwan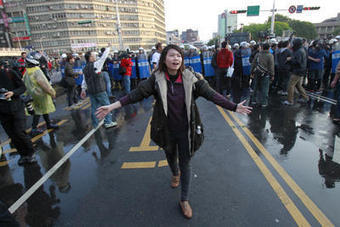 Author: Lauren Dickey, CFR The 18 March student occupation of Taiwan's Legislative Yuan has reopened lingering questions about the state of Taiwan's.
Barbara Capilos's insight:
East Asia Forum, a blog covering economics, politics, and public policy in East Asia and the Pacific, addresses what they think this standoff means for the future of Taiwan's democracy.
These protesters are holding their government accountable, which is a promising development in the eyes of East Asia Forum. They also predict the continuing plummet in popularity of President Ma, even so far as that it might have an effect on the 2016 presidential election. And finally that this current occupation movement shows that a good portion of the Taiwanese people feel that their government has been doing them wrong, and that this movement will result in a strain on future China Taiwan relations. In the end however, a strain in relations is better than a loss of independence in this blog's eyes.
See on www.eastasiaforum.org